| | |
| --- | --- |
| Current Music: | Tell Me On A Sunday, "Capped Teeth & Caesar Salad." |
| Security: | |
| Subject: | Dolores Claiborne |
| Time: | 03:12 pm |
| Current Mood: | groggy |
Cross-posted to my own journal.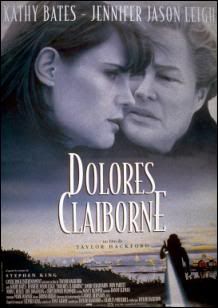 The last time I read
Dolores Claiborne
(which is a novel by Stephen King) was in the summer of 2003. I actually remember reading it - I couldn't sleep one night so I read it in intermittent bursts, picking it up, reading a few pages, turning out the light, not being able to sleep and repeating the whole cycle all over again until I could read by the blue light of dawn. It's awful that I remember that. The novel - anyway - is about a middle-aged woman who is accused of murdering an rich old lady that she looked after for over twenty two years. It's told completely by the character Dolores in first-person, as she's questioned by two police officers and recorded. A few years back she was accused of killing her abusive, alcoholic husband, and suspicion's rested on her since then. She's indomitable and inimitable, and always aggressive. Yet every blow dealt to her by her husband resounds in the mind of the reader - she saves $3000 to send her daughter Selena to college, her husband claims their bank book is lost and steals it all, her daughter starts withdrawing into herself and Dolores questions her about it - it turns out her husband's molesting her. All these are heart-breaking because, despite Dolores' willfulness, she's useless to help because she's a woman. But then the character of Vera O'Donovan (the old lady that Dolores works for) enters with advice - "Sometimes, being a bitch is the only thing a woman has to hold onto."
The film changes a lot. Selena, who's now a high-flying journalist, is faxed by the local detective about the "murder" and travels to the island where her mother lives. The whole story is told to her then by her mother, weaved around moments from the present. She doesn't believe her mother at first, having repressed all these memories, but finally she starts remembering. John C. Reilly (I LOVE HIM) and Christopher Plummer co-star as members of the police on the island, Plummer as the detective that's bitter about Dolores' verdict of innocent in her husband's case.
Selena, in the film, is such a greedy, ungrateful character that it immediately removes all of Dolores' feistiness and transforms her instead into a martyr, and the device of having the prodigal daughter return invents an entirely new film, a mother-daughter flick along the lines of
Fried Green Tomatoes At The Whistlestop Café
. The original book was about a pair of curious deaths on a backwards island in north-west America, connected by a gritty, aggressive character. The movie is about an estranged, troubled young woman returning to the place where she grew up to unwillingly, unknowingly lend support to her embattled mother. The main plots of the book - the death of the husband and Dolores' relationship with Vera O'Donovan - are pushed aside and seem only like vignettes. The husband's death is a huge plot in the book - there's incredible detail paid to it, both during and after. And Vera O'Donovan is one of the main characters and the most important in the book, save Dolores. The only inkling we get of the importance of their relationship is when a young Vera advises Dolores having heard of her daughter's molestation, and a line or two thrown in near the end in an anticlimatic hearing scene by Selena - "These two women loved each other!" It's a good film, but a terrible adaptation.
Kathy Bates, as Dolores, is amazing. I love Kathy Bates, she's amazing in everything. The opening scene, when she's discovered holding a rolling pin over Vera O'Donovan's dead body, is incredible. She's so natural and likeable. Jennifer Jason Leigh as Selena is very good but that part is stupendously badly written. David Strathairn as Joe St George, the abusive husband, is excellent, as are the other costars. The use of cool grey-blue tones to represent reality, and almost technicolour, harsh tones to show the past is very effective, as are the sweeping cuts.
Overall,
Dolores Claiborne
is a movie to see if you want a bit of drama on a rainy evening, but don't go out of your way to see it.
comments: Leave a comment